The healing power of water without getting wet
Spa Standard Model:
Choose our Standard Spa Model for the power and unmatched design and style. Aqua massages are quick and require little time, so even the busiest of people can fit a massage into their schedule.
The benefits of aqua massage include increased blood circulation and oxygen absorption, an increase in range of motion along with a decrease in inflammation and muscle tension, along with an increase in endorphins.
The Spa Model is perfect for: Tanning Salons, Fitness Clubs, Spa's, Wellness Center etc.
Standard Features Include:
Includes aromatherapy and sound system.
Monochrome touch screen control.
Stainless steel pump. Water jets & jet drive assembly.
Pre-wired GFI assembly. (domestic only)
Standard color is white.
Optional colors are available.
Spa Body Profiler Model:
The Spa Body Profile Model include everything that the Standard Model includes with the addition of:
The AVA Relaxation System™ which features:
Audio CD player system with headphones
Variable Speed Control fan and Aromatherapy
Color touch screen control
Automatic Body Profiler Control System™
Stainless steel 3 HP pump, water jets & jet drive assembly
Pre-wired GFI assembly (domestic only)
Standard color is white
Optional colors are available
A high level of comfort…
Aqua Massage Spa has been designed to allow the customer to make their own in total relaxation and massage with every comfort.

What it offers Aquamassage SPA



Available in different colors

Color Display with Touch Screen

Automatic temperature control

Simple / rapid exchange aromatherapy

Headphones for listening to music
Head massage cushion for prone or supine

Full body massage for the whole body

SPECIFICATIONS AQUAMASSAGE SPA



Settings for pressure
Settings for pulse frequency
Adjustments to water temperature
Relaxing massage (pumping)
Invigorating massage (wave)
Anti-cellulite massage (butterfly)
Electronic remote control to adjust the pressure and the direction of the water jets
CD/MP3 player and DVD (Music Therapy)
System for Aromatherapy
Touch Screen System
DATA SHEET SPECIFICATIONS AQUAMASSAGE SPA
| | |
| --- | --- |
| Length: | 249 cm |
| Height: | 107 cm |
| Width: | 86 cm |
| Weight: | 227 Kg without water |
| Capacità: | 70 liters of water in the tank |
| Voltage: | 220 VAC 50 Hz single phase 20/25 Amp circuit breaker with a grounded |
| Timer: | 1 to 60 min. |
| Temperatura acqua: | From 25 ° C fi no to 40 ° C with 25 ° C Max ambient temperature |
| Warranty: | 12 months |
Model complies with European regulations EN60601 – MARCHIO CE
Patents n° 4.751.919 – n° 4.908.016 – n° 5.158.076 – n° D 522.659
Optional Colors:
Additional lead time required

Download Depliant Aquamassage SPA
Copyright 2014 – ESCO Srl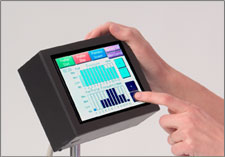 As a leader in product innovation and quality engineering Aqua Massage International introduces the industry's first "Body Profiler"™ operating system with a touch screen control.
This sophisticated technology lets the operator or client easily select the preprogrammed Body Profiler™ to suit the client's unique requirements, such as stronger pressure on the lower back and gentle pressure in the neck region. For clients who desire more individual control over their experience, a handheld control enables the client to pause the massage jets on a desired location, increase or decrease the pressure in any zone, and select any single or double direction effects of massage for optimum pain relief and/or relaxation.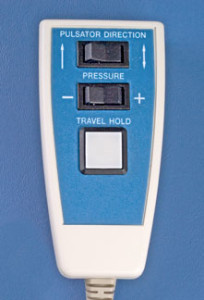 The Body Profiler™ divides the body into 12 equal zones, ranging from the feet to the neck. Pressure and pulsation frequency of the massage jets can be independently and easily programmed for each zone. Up to 100 customized Body Profiles can be stored in the operating system and recalled with a simple "Press" on the touch screen. Entering the height of shorter clients automatically adjusts the length of the 12 zones to match their body proportions.
Using the automatic "Gentle Start" option gradually increases the water pressure and/or pulsating frequency for a smooth introduction to each Body Profile. "Gentle Finish" automatically decreases the pulsating frequency for a "relax/dream" ending. No need to depend on the operator to monitor and regulate the session for the ultimate experience!