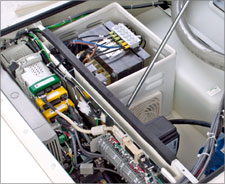 Aqua Massage International is committed to bringing excellence to the wellness industry. With over 22 years of pioneering design and research experience, AMI joins technology to tradition and delivers the ultimate aqua massage system that is currently used in over 90 countries.
In collaboration with select medical professionals, AMI developed the premier standard for dry water massage systems. Using our proven technology, you can now offer your clients the same health benefits of a traditional hour-long massage in only 15 minutes.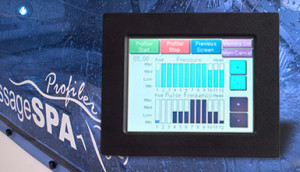 We don't cut corners. AMI's aqua massage systems are designed and manufactured for years of trouble-free operation, and minimal maintenance. They are constructed right here in the USA, of high quality, durable materials and electronics, and tough, stainless steel material. Our standards are the most rigorous in the industry. Each technician is assigned an individual unit which they assemble, test and document their work. After this, each unit is inspected and tested again by an independent Quality Control/Quality Assurance technician before being released for shipment to the customer.
AQUA MASSAGE

– PROVEN DURABILITY
Patented technology that is vastly superior to other massage devices ensures years of low maintenance operation.

High quality, made in the USA construction utilizing state of the art electronics and stainless steel components for long life and reliability.

Independent laboratory safety tested to UL and CE specifications.

An optimized V-shaped spray bar with 36 water jets that has been researched and designed in conjunction with medical professionals for maximum effectiveness.

A long lasting, high-strength waterproof barrier separates the client from the water. Designed to maximize sensitivity for the client yet durable for years of use.
WELLNESS PROFESSIONAL BENEFITS
The powered canopy opens allowing for easy access. The see-through acrylic canopy provides viewing of the water jets in motion, drawing attention in retail settings.

Sessions can be performed with minimal operator intervention and post-session clean-up.

The Aqua Massage is self-contained, and operates on standard electrical power. No plumbing is required and no water disposal is necessary.

Body Profiler™ technology that stores up to 100 individual client treatments. Easy recall of customized settings that focus upon varying needs of the clients, such as lower back, neck or any of the 12 seperate body zones from feet to neck. Click to learn more.
CLIENT BENEFITS
The client remains clothed and dry for privacy and comfort with no post-session clean-up of oils or contaminated water.
The spray bar travels forward and back, massaging the full length of the body or easily selected to concentrate on a specific area.
The water jets simulate a fingertip massage from the center of the body to the sides of the body. The force can be adjusted to suit the sensitivity of the client and with a consistency that cannot be duplicated by manual massage or other massage devices.
The pulsating water jets can be adjusted from a relaxing 2 cycles per second up to an invigorating 10 cycles per second. The pulsation can be varied independent of water pressure for maximum effect and client sensitivity.
The water temperature can be adjusted from approximately 90°F to 104°F using the electronic thermostat.