Medical-PT-Rehab
Progressive physicians can now offer their patients the best in a full body combined therapy system with the Aqua Massage XL or PT-Pro product line. In clinical studies, massage therapy has been proven to increase range of motion and flexibility and help with musculoskeletal pain management. Aqua Massage offers patients of all ages the benefits of a hands-on massage with the therapeutic benefits of heat.
The combined effects of heat and massage can also have a remarkable impact on reducing musculoskeletal pain and improving patient overall wellness.
Proven Medical Benefits:
Deliver a superior level of therapy
Benefits of hands-on massage with benefits of therapeutic heat
Powerful method to help reduce stress and musculoskeletal pain
Self contained
Reduce treatment cost
Increase patient satisfaction
An additional benefit is that massage promotes body self-awareness, and patients who receive regular massage often experience increased motor and posture control, with a corresponding reduction in injury susceptibility. Aqua Massage PT Pro provides the all benefits of Dry Hydrotherapy, Dry Heat Therapy and Massage Therapy without the usual inconveniences and time required for these modalities. Each rugged, stainless steel unit is self-contained, requires minimal floor space, and is exceptionally easy to operate.
The Aqua Massage PT Pro offers easy entry and exit with a firm supporting cushion–there is no climbing off an unstable water bed membrane – and the patient remains fully clothed. Water pulse frequency can be independently adjusted separately from the water pressure control to suit each client's sensitivity and needs for pain relief or relaxation, while a separate, hand-held control allows the patient to be interactiv with the therapy and pause the adjustable pressure water jets on problem areas. The 36 electronically controlled stainless steel waterjets provide a "3D" effect massage on three sides of the body with the patient in a prone or supine position.
The sophisticated technology of the automatic Body Profiler Control System™ lets the operator or patient easily select a preprogrammed Body Profile™ to suit the patient's unique requirements. For example, patients can choose stronger pressure on the lower back and gentle pressure in the neck region. The hand-held control gives the patient individual control over their own therapeutic experience.
Maintenance of the unit is minimal – including post-therapy cleanup – because the patient remains fully clothed and lotions are not required. A convenient face paper roller makes high volume use even easier. The Aqua Massage scientifically developed multi-therapy system helps you reduce treatment costs, increase patient satisfaction and deliver a superior level of therapy modalities.
Click here for estimated revenue summaries
AQUA MASSAGE WELLNESS CENTER TESTIMONIALS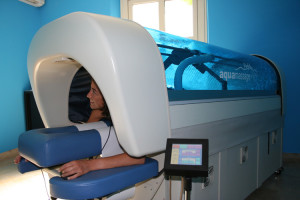 "…Hereby confirm our extremely positive relative to the machine recently adopted in our departments.
The undeniable pleasantness of individual sessions , in fact, it is often forgotten that strong therapeutic function that , on the contrary , justifies the adoption of a spa. Great replacement for the general manual massage therapy , ie in all cases where they are not needed targeted interventions ( manipulation , mobilization , etc. ) , then the Aqua Massage can also be employed in the field of thermal spa. The individual programs , customized in order to assign to each a specific function , can therefore have both therapeutic purposes , as well as relaxing . Rarely, however, both effects are disjoint , so each session … love is good and relaxes .
Noteworthy is the degree found in the Customers, as exemplified by the last judgment delivered on December 8 by one of our customer that day ended a cycle of a mud bath which was associated with the idromassoterapia :: "Good purchase the new system, most appropriate and healing when you need to treat the entire body to run down the ages. I wish you could have the success it deserves . " The eloquent judgment , however, that comforts us in choosing , can not take account of a fact installed in April 2006 , the new equipment has greatly enjoyed the success it deserved !
The opinion of Physicians and Therapists of our department in this regard is sinstetico and clear: except in the case of diseases , often very localized , requiring the intervention of the game forces the expert hands of a therapist , a series of appropriately prescribed idromassoterapia allows you to get results that you can not hesitate to define exceptional…" dott. Paolo Bonini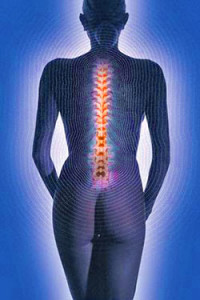 "I am a man in his 50′s. My diagnosis is: cervical DJD – S/P laminectomy and fusion, lumbar DJD, fibromyalgia, subacromial bursitis in my shoulders. In other words, I have arthritis. I purchased several treatments using the Aqua Massage and found that it relieved some of the pain I have. I went to my arthritis doctor and he gave me a prescription for eight treatments at a physical therapy location. I purchased the Aqua Massage so I could use it 2 or 3 times a days for 10 to 15 minutes. My lower back and legs can be hurting so bad that I can't stand it. I can get in the Aqua Massage machine for 15 minutes and it will get rid of most of the pain to where I can stand it. The Aqua Massage relaxes the muscles that helps the pain. It is a great machine." B.R., California
"I am a 40% disabled service connected veteran. I have injuries to my neck and lower back that were sustained while I was on duty in the Army. I have gone through physical therapy utilizing heat, ultrasound/TENS deep muscle therapy, and am being considered for water therapy to relieve pain and stiffness. I went to a local mall where the aqua massage was displayed and I tried it – LOVED IT, and wanted to know whether insurance covers the purchase of a unit for home use, or whether my doctor would suggest that I need one. I must say that given my history of injuries, I felt like a new person after just 10 minutes! My husband also gave it a try and didn't want to get out! Please send me some information so that I may show this to my doctor. I truly hope that I may be able to get one! Thanks so much."    L.V., New York
"I am a woman in my nineties living alone for the past 20 years. I have extreme pain from arthritis and a knee replacement surgery I had back in my early 80′s. I was introduced to Aqua Massage which I now use once a week. I find my pain is less intense, and my week is much easier for me. I do all my own cooking, cleaning, laundry and shopping. I also do my front as it really helps take stiffness out of my knees. As you can see I had to write to you to let you know how much better my life is at 90 years old."
F.M., Wisconsin