SPA – SALON/WELLNESS CENTER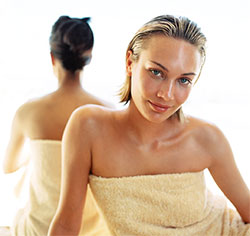 ahh! That's the sound you'll hear more often from your clients when you offer them a soothing, sensory aqua massage experience as one of your spa or salon amenities. Perfect for busy, stressed clients, the Aqua Massage product line allows your clients to pack more relaxation into less time! Because clients receive the benefits of a traditional hour massage in only 15 minutes, clients can schedule additional treatments during their appointments, immediately boosting your profit margins. Hurried clients will love the convenience of not having to undress, and modest clients will appreciate the privacy not having to be touched by a stranger. Combined with other packages or offered singly, the Aqua Massage product line will increase revenue and client satisfaction.
For a more completely seductive spa experience, use the AVA™ System. Combining music and aromatherapy with a luxurious full-body massage creates a feeling of well-being so extraordinary for your clients, that you may never get them to leave!
The Aqua Massage Spa product line is available in custom colors to match any decor.
The Aqua Massage Spa:
Boost your profit margins
More relazation into less time
Increase revenue and client satisfaction
Compatible with external time control systems
Click here for estimated revenue summaries
AQUA MASSAGE SPA/SALON/WELLNESS CENTER TESTIMONIALS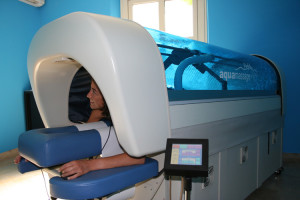 "…Hereby confirm our extremely positive relative to the machine recently adopted in our departments.
The undeniable pleasantness of individual sessions , in fact, it is often forgotten that strong therapeutic function that , on the contrary , justifies the adoption of a spa. Great replacement for the general manual massage therapy , ie in all cases where they are not needed targeted interventions ( manipulation , mobilization , etc. ) , then the Aqua Massage can also be employed in the field of thermal spa. The individual programs , customized in order to assign to each a specific function , can therefore have both therapeutic purposes , as well as relaxing . Rarely, however, both effects are disjoint , so each session … love is good and relaxes .
Noteworthy is the degree found in the Customers, as exemplified by the last judgment delivered on December 8 by one of our customer that day ended a cycle of a mud bath which was associated with the idromassoterapia :: "Good purchase the new system, most appropriate and healing when you need to treat the entire body to run down the ages. I wish you could have the success it deserves . " The eloquent judgment , however, that comforts us in choosing , can not take account of a fact installed in April 2006 , the new equipment has greatly enjoyed the success it deserved !
The opinion of Physicians and Therapists of our department in this regard is sinstetico and clear: except in the case of diseases , often very localized , requiring the intervention of the game forces the expert hands of a therapist , a series of appropriately prescribed idromassoterapia allows you to get results that you can not hesitate to define exceptional…" dott. Paolo Bonini
"We began promoting the Aqua Massage back in November.  The promo's we   received and used from AMI were very helpful in our successful   advertising.  We sold 23 gift certificates before our system arrived   resulting in $345 revenue!  Customers bring in non-tanners just to use   the Aqua Massage!  We believe the Aqua Massage is a wonderful and   perfect addition to a tanning salon.  It's a HIT!"  G.W., Iowa
"The first official Aqua Massage is running in Denmark!    It is in a new place called MySpaze.  It has been in the newspaper and   on the radio.  We took a bunch of journalists from both the radio and   newspaper and gave them a whole day at the place and treated them like   they were ordinary customers.  The next day on the radio they talked for   hours about their experience and what  machines they most liked.  The   Aqua Massage was the most popular machine and they all agreed that is   was the king of all machines!"  L.D., Denmark